Traffic Control Person (Flagger) Online Course
Ensure that your employees have the knowledge and skills to work in temporary traffic control environments in a safe manner by signing up for our Traffic Control Person Course. This Online TCP course certifies that participants understand proper hand signaling, job site safety and preparation, personal protective equipment, and their roles and responsibilities. Our Traffic Control Person Course Online offers up-to-date course content and the latest information for all participants. This course is written to comply with the Ontario Traffic Manual - Book 7 - Temporary Traffic Control Conditions (2022 Edition). Note: Some Provinces may require a specific in-person program. Please consult with your local Government Road Authority to ensure this course will meet your needs.
Traffic Control Person Course Online: Learn the Legal Requirements for Working in Temporary Traffic Control Environments
This Traffic Control Person Course Online program will teach workers:
Required Safety Equipment
Proper Use of Hand Signalling
Stop and Slow Signs
Personal Protection Equipment (PPE)
Supervisor and Worker Duties
Job Site and Job Preparation
Traffic Control Placement
Responsibilities and Authority
Any construction project that takes place on or alongside a public roadway may implement traffic control measures in order to keep its workers, as well as the general public, safe. Worksite traffic control has four main objectives:
To protect construction crews and the motoring public by regulating traffic flow
To stop traffic whenever required by the progress of work, but otherwise, keep traffic moving at reduced speeds to avoid tie-ups and delays
To allow construction to proceed safely and efficiently
To ensure that public traffic has priority over construction equipment
To accomplish this, many worksites employ workers called Traffic Control Persons, also known as Traffic Flaggers in the United States, who manually direct vehicle traffic using a STOP/SLOW sign and hand signals to prevent conflicts between workers, work zone activities, opposing road traffic, work vehicles, and pedestrians.
When working as a Traffic Control Person (TCP) or Traffic Flagger, there are several laws you must adhere to for your safety and the safety of those around you. While specific regulations differ between provinces or states, one requirement that never changes is that anyone working as a Traffic Control Person (Traffic Flagger) must be "competent" in any work they undertake. A "competent worker" is anyone who:
Is qualified to perform their assigned work safely because of knowledge, training, and experience
Is familiar with the health and safety regulations of the province or state they work in
Has knowledge of any potential or actual danger to health and safety in the workplace
It is the legal duty of employers to ensure their workers are competent in their assigned work.
This course has been developed for workers who require the knowledge and skill to safely and competently perform the role of a Traffic Control Person. By the end of this course, you should be able to:
Explain the important roles and responsibilities of Traffic Control Persons
List and describe the various pieces of personal protective equipment (PPE) required when working as a Traffic Control Person, and explain when and why they must be worn
List and describe the various signs and other devices used in traffic control
Explain the importance of pre-work planning and communication for job site safety and how these are achieved
Describe how to properly conduct a pre- and post-work inspection
Explain what to look for when choosing a suitable traffic control post
Describe the steps and signals necessary for stopping and slowing traffic
Explain what to do in the event of a problem or emergency
Keep in mind that this course does not replace any standards, codes, or regulatory requirements, and you must ensure you always use and apply the most current version of your Provincial, State, or Federal health and safety laws.
Duration of Traffic Flagger Online Training Course
The Traffic Control Person Training Course takes approximately 60 minutes to complete.
Participants in the Traffic Control Person Course Online will be assessed by a test after viewing the course material. Participants must achieve a mark of 80% or higher to earn their certificate of completion. Those that do not reach the required mark will be allowed to repeat the course two additional times. Supplemental materials necessary to complete this course can be accessed online.
Certificate of Completion
Participants who successfully pass the Traffic Control Person Training Online will earn a certificate of completion which they can print out or download and keep for their records.
This course will ensure workers know:
What clothing will meet CAN/CSA Z96-09 guidelines
How to communicate with other workers safely
Traffic Safety
How to stay safe
Traffic Control Person Tips:
You must have a traffic control plan inside the work zone that manages the flow of heavy equipment, construction vehicles, and workers.
Properly Control Traffic
Create Separate Work Areas
Wear Proper Safety Equipment
Be Aware of Your Surroundings
Avoid Blind Spots
Stay Hydrated
Have a Competent Person on Hand
Start Each Work Day with a Safety Meeting
Have a Site-Specific Safety Plan
IHSA Handbook for Construction Traffic Control Persons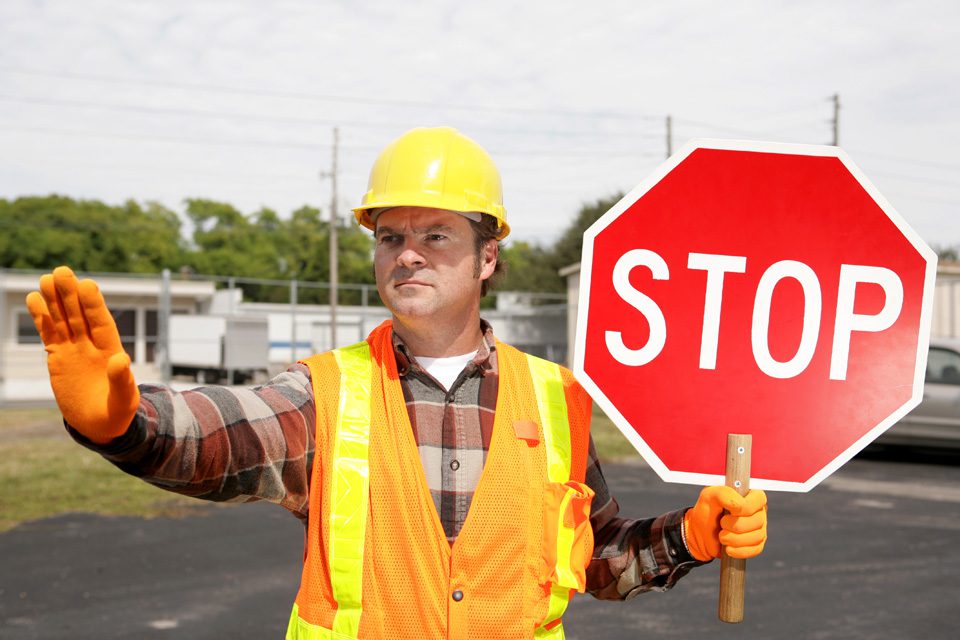 Certificate ready for print/download upon course completion

100% Satisfaction guarantee
Other courses you may be interested in:
Aerial Platform Training Online Course
Cargo Securement Flatbed Training Online Course
Hours of Service Online Course