Confined Space Awareness Online Course
People who work in confined spaces should be aware of the risks and hazards involved within their work environments. Confined space awareness training makes workers aware of what to look for. This course not only increases the worker's awareness and teaches how to keep themselves safe but also helps workers enhance the safety of others with whom they work with. Our Confined Space Awareness Online Training Program is built in accordance with the CSA standard 1006-001 for Management of Work in Confined Spaces.
Certify Your Knowledge and Stay Safe While Working in Confined Spaces
With our Confined Space Awareness Course Online, participants will learn:
What Is a Confined Space?
What Hazards a Worker Need to be Aware of?
Identifying Hazards
Risk Categories
The Roles and Responsibilities of a Qualified Worker
Emergency Response Guidelines
How to Work Safely in a Confined Space
The Confined Space Awareness Online Course takes approximately 2 hours to complete.
Participants in the Confined Space Awareness Online Course will be assessed by a test after viewing the course material. Participants must achieve a mark of 80% or higher to earn their certificate of completion. Those that do not reach the required mark will be allowed to repeat the course two additional times. Supplemental materials necessary to complete this course can be accessed online.
Certificate of Completion
Participants who successfully pass the Confined Spaces Training Online Course will earn a certificate of completion, which they can print out or download for their records.
What are the most dangerous parts of working in a confined space?
Toxic Atmosphere
Oxygen deficiency
Oxygen enrichment
Flammable or explosive atmospheres
Flowing liquid or solids
Excessive heat
Top 10 Tips for Working in Confined Spaces:
Monitor the Atmosphere
Eliminate or Control Hazards
Ventilate the Space
Use Proper Personal Protective Equipment
Isolate the Space
Know the Attendant's Role
Be Prepared for Rescues
Use Good Lighting
Plan for Emergencies
Constant Communication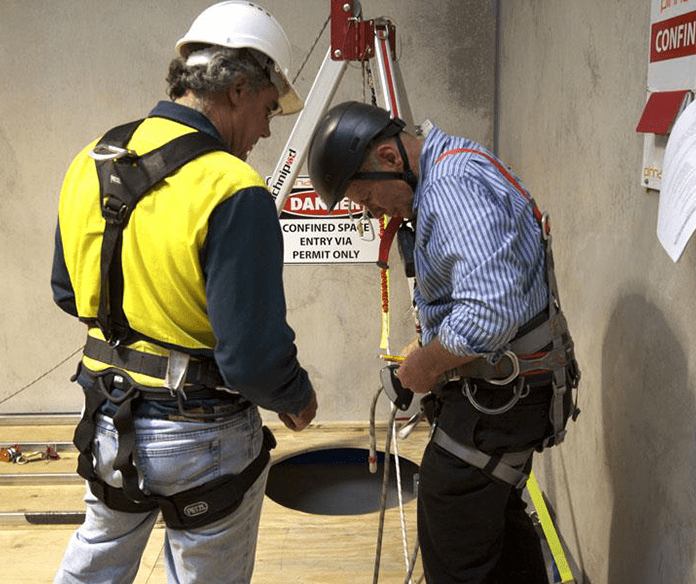 Certificate ready for print/download upon course completion

100% Satisfaction guarantee
Other courses you may be interested in:
Confined Space Awareness Online Course
Cargo Securement Flatbed Training Online Course
WHMIS 2015/GHS Certification Online Course